No need to suffer with cold feet
Tuesday, 26 October 2021 | Soul Destiny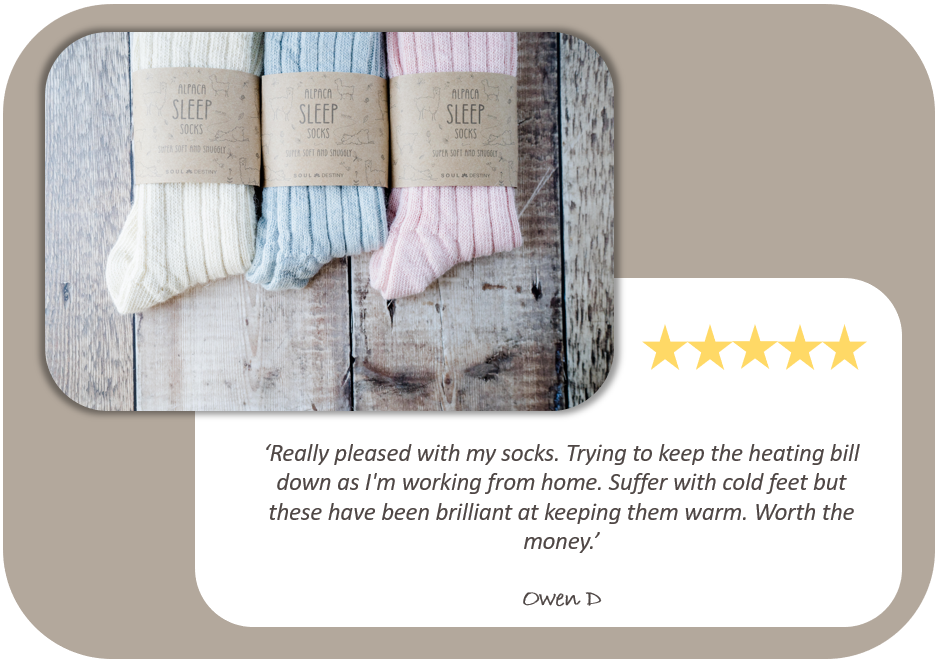 It's great to receive feedback from customers and really nice to be able to pass that on to the manufacturers who are based in the UK!
So many of us are now working from home. As it gets chillier it's not easy to stay warm if you're sitting down for long periods. We're chuffed that Owens Alpaca bed socks are keeping his feet toasty during the day!
Our Alpaca Bed socks are made from 90% Alpaca wool and are the ultimate luxury purchase for keeping the toes warm and cosy. Have a look at our selection of Alpaca sock gift ideas for Christmas.
They feature an elastic free top so are comfortable to wear without any pressure or marks normally seen with elasticated socks. Alpaca fibre doesn't contain grease or lanolin so anyone who suffers from allergies to sheep wool will love these soft socks as they are hypoallergenic.
Alpaca wool is as soft as cashmere to wear and has higher insulating properties than any other fibre. It allows your skin to breathe and alpaca fibre does not retain odour because it doesn't absorb it – genius!
You can wear the same pair of socks multiple times and they will stay soft and fresh smelling – it's a truly natural, breathable, antibacterial fibre.