Why choose Alpaca socks?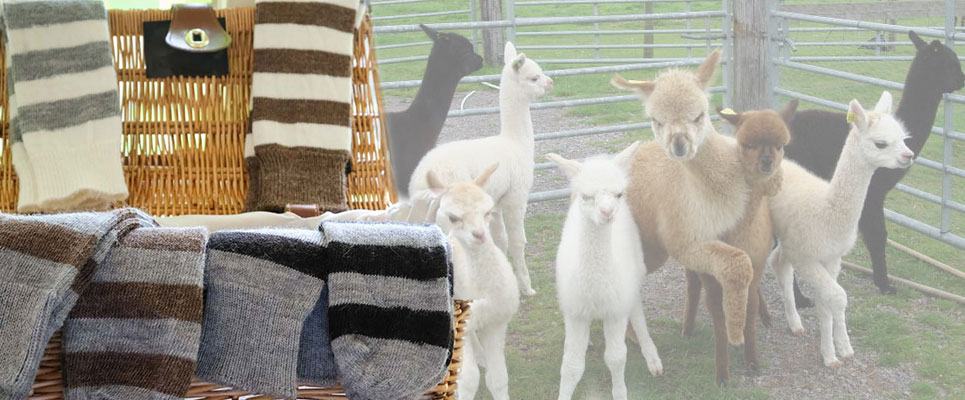 If you have not tried alpaca socks before, you are in for a real treat!
The beauty of alpaca fibre is that it combines softness with strength. This makes it ideal for socks and makes them soft and comfy but hardwearing too. It is smoother than wool which means it has a low prickle factor and will not give you an 'itchy' wool feeling. It is a natural antibacterial fibre which means that you can wear a pair of socks for weeks (if you want to) and they will not smell! Alpaca fleece is also hypoallergenic. Those who tend to stay away from wool, report no allergic reaction to alpaca.
Alpacas are naturally bred in the Peruvian highlands and have to cope with extreme temperatures. Their fleece is light weight but carries high insulating properties. The Alpaca fibre allows for breathability and moisture absorption from the skin allowing your feet to always remain fresh and comfortable at the right temperature.
Not only is alpaca fleece strong and warm, it is proven to be incredibly water resistant. This may suggest why alpacas are so successful at wicking moisture away from their bodies. Our alpaca socks are a great purchase as not only are they warm but they prevent your feet feeling sweaty; perfect for those cold, wet days in the unpredictable British weather.
Which of our alpaca socks are for you?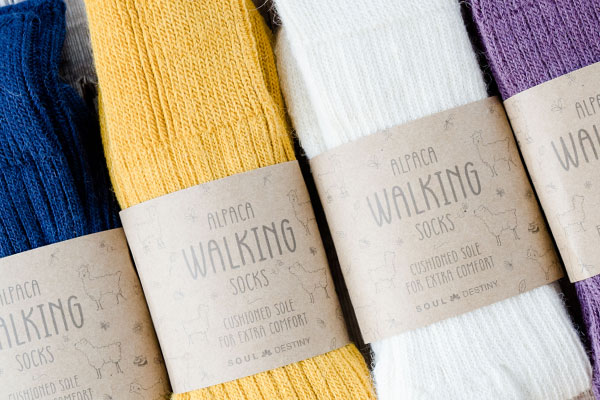 Our walking socks have a lovely bouncy cushion sole which makes them ideal for hiking, walking, climbing or any demanding outdoor pursuit. The cushioned sole helps stop blisters and keeps your feet warm. These colourful socks are made from 75% Alpaca and 25% Nylon, the additional nylon makes them extra hard wearing. Due to alpacas anti-bacterial and self-cleaning properties you could even wear the same pair of socks for a week – perfect for the longer hiking trip when luggage is at a minimum. Embrace the arrival of long-life socks!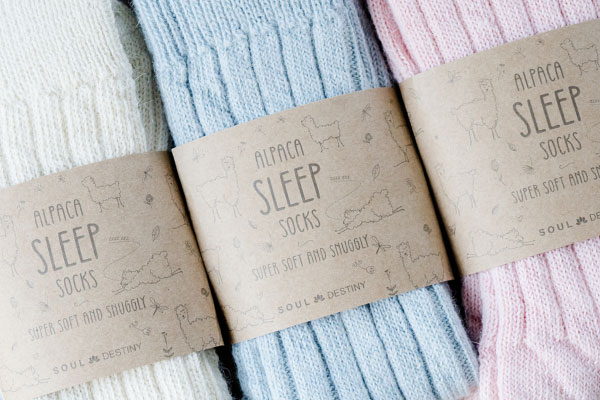 Our soft alpaca bed socks will be your best friends this winter, wear them on cosy relaxed evenings around the house. If you suffer from cold feet in bed, these socks are perfect for you. An affordable piece of luxury for you and a thoughtful pressie for others. Choose from our beautiful pastel and natural colours, treat yourself to a couple of pairs. These gorgeous socks are 90% Alpaca and 10% Nylon.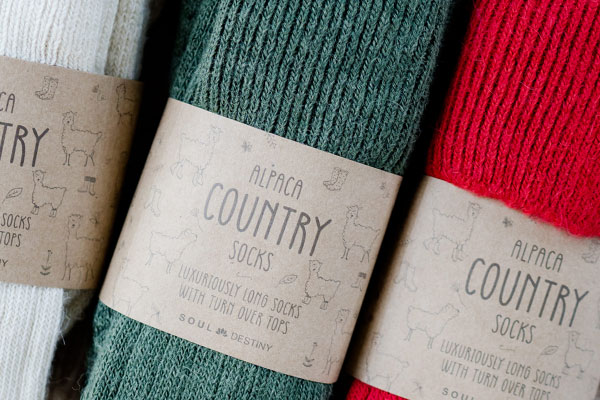 Our turn down top country socks are highly recommended for all types of country pursuits; walking, shooting, fishing, riding, playing golf – just about any outdoor sport you can imagine. Also perfect for wearing at festivals – wear just one pair for a week, eat in them, sleep in them, watch bands in them and let your feet stay happy and healthy. Made of 75% Alpaca and 25% Nylon. These fabulous knee length socks are ribbed with an in-built cushioned sole and hand linked toe seams, for extra comfort.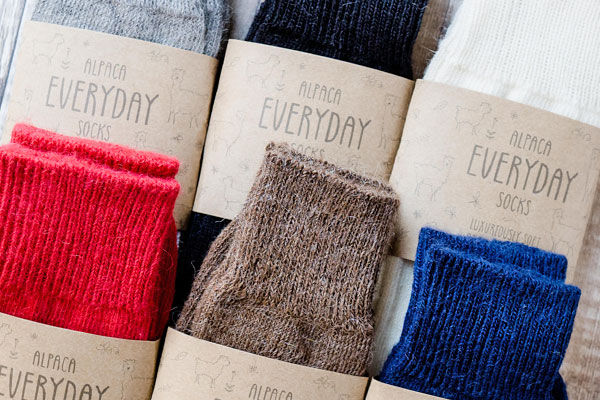 Our short socks are ideal for everyday wear with smarter shoes or casual trainers. A blend of 55% Alpaca and 45% nylon, these luxury short socks are excellent value and a perfect entry into the world of alpaca socks. Choose from daring red, sophisticated navy or subtle natural colours. If you want a bit more colour take a look at the contrast or striped every day socks!
Why good socks are important
Your feet are incredibly hard working and need looking after, wearing the right socks and shoes is essential. In an average person's lifetime, they will travel over 70,000 miles on their feet.
Each foot contains more than 250,000 sweat glands and up to one pint of sweat is produced by both feet in one day. Where does it go? Well a lot of it will be absorbed by your socks. Avoid cotton socks, they absorb the moisture but the moisture stays in the socks. This softens the skin, increases friction and which blisters. Avoid wool socks, wool is a coarse fibre, as thick as a human hair and can be itchy. Wool also absorbs moisture and creates an odour.
Socks should fit the foot perfectly. If they are too tight they restrict circulation, if they are too loose they increase friction leading to blisters. Toes need room to wiggle and be happy. Sock toe seams should be flush and smooth against the skin to avoid irritation.
Alpaca socks keep your feet happy and healthy!
Alpaca products are eco-friendly
Alpacas are eco-friendly animals, efficient in their environment as they eat the tender shoots of grasses and plants, but leave the roots to regenerate.
Alpaca fibre doesn't contain grease, lanolin or environmental contaminants, so during the cleaning process no harsh chemicals need to be used, only gentle soap. This protects the local eco system and the end user.
When pure alpaca clothing finally reaches the end of its usefulness it can be disposed of naturally as it is totally biodegradable. Alpaca doesn't hold dust, helping alpaca products to stay clean longer, requiring less laundering.