Rose tinted spectacles?
Friday, 20 August 2021 | Lucy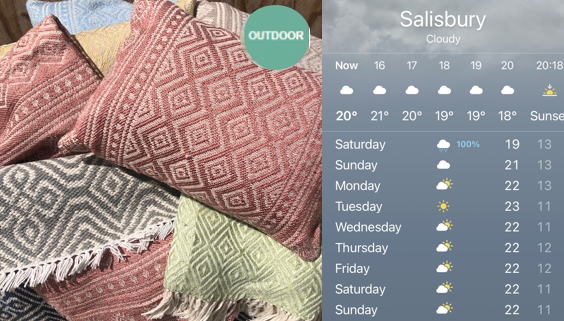 Maybe not this weekend....but we are keeping everything crossed for a bit of sunshine soon!
Our fabulously practical, stylish and soft range of indoor/outdoor home furnishings are just waiting for some outdoor use. Have a look at the matching range of cushions and throws in gorgeous shades of rose pink, old gold, natural and sky blue. They are made from eco-friendly 100% PET yarn that is made from recycled bottles.
All of our indoor/outdoor suitable products are clearly labelled on the website and you can easily see alternative suggestions in the related products below the product you are looking at.
As always we would love to hear your product feedback, suggestions or requests at orders@souldestiny.co.uk.